VIDAWORKS Creates An Environmental Branded Experience Celebrating PA's Scranton Preparatory School Athletics
When the Scranton Preparatory School became interested in promoting excellence in their athletics, they called in the branding experts at VIDAWORKS. Fresh from being recognized as a Top 5 Pennsylvania Branding Agency, by DesignRush. VIDAWORKS dove in to create an environmental branded experience within the schools' hall. Hence the "Hall of Fame" was born.
The Challenge: Transform a multi-purpose, heavy-traffic area and create an environment that celebrates athletics ninety percent of the time, yet still has the ability to serve as a multipurpose hallway/room for other events, with of course minimal construction costs and downtime use of the space.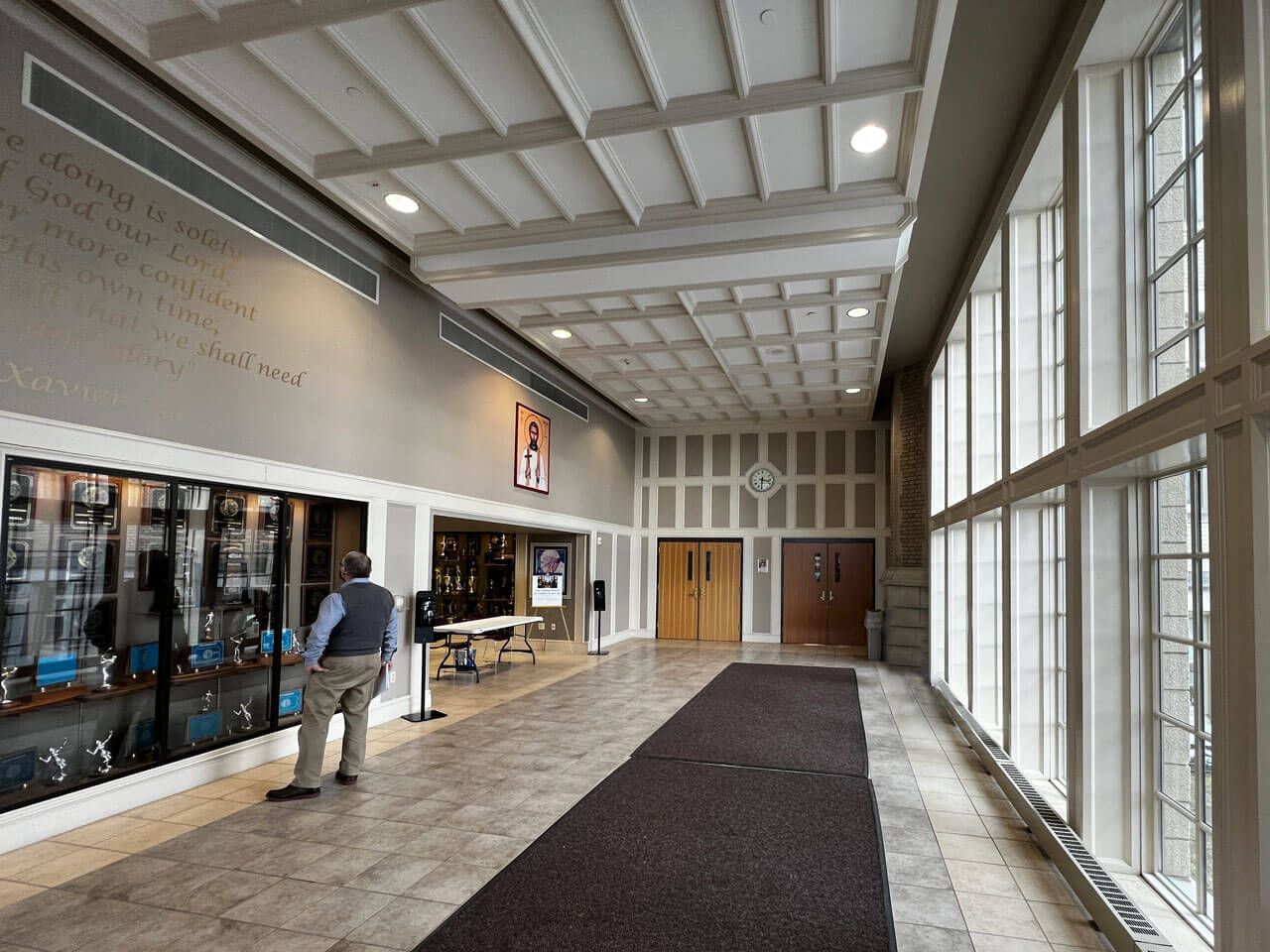 After a complete space audit, lighting study, and construction meetings, first up was the conceptualization and execution of a brand/logo that represents Scranton Prep and its dedication to Athletic involvement which plays an important part in the development of the "whole person". Proudly displayed and installed on clear acrylic with stainless steel standoffs to dedicate the newly named area.
Following the logo creation, was the art direction of the banner design celebrating the 8 Championship years in various sports. Dating back to the first 1973 Basketball State Championship. Fabric printed, double-sided, and hung from the ceiling rafters with stainless steel floating hardware raised heads and filled hearts with pride.
Utilizing the height of the ceiling allowed us to enhance the brand experience without taking away from the footprint of the space. Thus nothing to walk around or impede the walkway.
Speaking of brand experience, typically hall or walls of fame would require track or cantilever lighting systems, so instead of having our client go through more construction and running electrical lines, we conceptualized a way to use the natural light to enhance the experience one step further. Using a special translucent material and some ingenious reverse engineering on solar-powered shades, we transformed 6, four foot by seven foot long windows into a branded light show. When retracted, beautiful monotone brand-colored photos dating back to 1949 cascade the hallway with reflections of purple and gold throughout the day. And glow proudly from the street view exterior at night. All are controlled with a remote on a smartphone.
Lastly, the big question was how could we bring it all together? Over 70 years of rich history filled with academic and athletic excellence. How can we possibly celebrate every year, every sport, every team, athlete, and student alike? Our space audit revealed a trophy case was not the best use of space in this scenario. With the help of the Scranton Prep staff, we relocated the trophies and plaques to another designated area. Removed the glass doors, and lined the back wall with a photo of a stadium stand filled with enthusiastic students in their signature monotone brand look. We installed a 55-inch interactive touch screen display, that when engaged showcases every aspect of Scranton Prep. Including a yearbook archive, graduate archive, historic storytelling in photographs and video, and of course Athletic Excellence. Screensavers will rotate pertinent school-related messaging, ranging from highlighting the student of the month to QR codes to register for Open House, purchase Prom tickets and buy Prep apparel... all as you walk by. Scan and go the ultimate user experience.
The whole collaboration process was extremely amazing. A huge shoutout to the VIDAWORKS partners contributing to the success of this project. Mary Jo Arnal of Fast Signs of Scranton and her entire team and the amazing Bob Lizza of Lizza Studios in Tunkhannock. Please check out the process video and take note of the shameless selfie of our CEO/CCO, Chris Vida with his good friend, Shamus McGuigan, recognized not once but twice as State Champion on the banners that were designed. We are thrilled to have been a part of preserving the accomplishments of so many exceptional student-athletes and alike. That's #BrandBold
Don't hesitate to ask us something. We are eager and willing to help build brands from the smallest of clients to the largest...we love this stuff. Fill out the form below, email us directly info@vidaworks.com or call us at 1-570-585-7897.