Mountain Creek Grill opens its doors to a fresh Brand.
This American Advertising Gold Award winning letterform logo was designed to represent the mountainous region. With an upscale, yet approachable personality through the type treatments and brand voice. A destination for locals and vacationers alike. Engaging shoppers, skiers, families and/or large parties to dine drink or just relax at an area inspired establishment.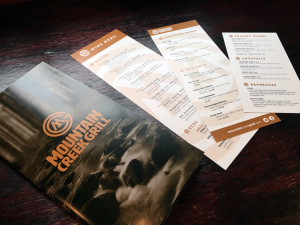 Please don't hesitate to ask us something. We are eager and willing to help build brands from the smallest of clients to the largest…we love this stuff. Fill out the form below, email us directly info@vidaworks.com or call us at 1-570-585-7897.